Corian®
Corian® SWEET 857
The Corian® SWEET 857 can be seamlessly undermounted with a worktop made from Corian® Solid Surface

Available in Corian® Glacier White, Corian® Cameo White and Corian® Designer White

For more sinks in the kitchen range click HERE.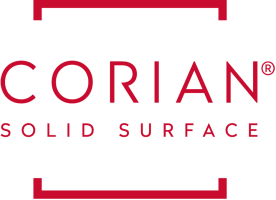 Description

Corian® SWEET 857 – Beauty, functionality, durability, stain resistance, hygiene and easy care are just some of the reasons why sinks made with Corian® are the perfect addition to your kitchen design. Offered in an inspiring variety of colours and styles, Corian® is nonporous to resist the growth of mould or mildew. With any number of edge treatments and inlays and a variety of configurations and fitting options there are no limits to your design possibilities.

The pure, elegant forms of Corian® sinks, basins and work-surfaces integrate effortlessly into the surroundings, creating intimate spaces that reflect the personality of their owner and that play host to life's daily rituals.

Infinite design possibilities –

Thanks to Corian's large colour pallet, thermoforming, inconspicuous jointing and translucent properties the Corian® SWEET 857

sink can be integrated into any

Corian® sheet and

provides a limitless range of possibilities for most kitchen and commercial designs.

Ready-made sink shapes are a fundamental element of the Corian® Design range. One of the main advantages of Corian

®

Sinks is the ability to create an entire, continuous surface incorporating sinks. The Corian® SWEET 857 offers seamless under mounting techniques to eliminate rims that trap dirt and water, minimising cleaning and maintenance, providing a reliable combination of beauty, quality and hygiene.

Robust and durable –

All high-traffic, high-stain areas require a functional and durable material. Stores and exhibition spaces are no exception. Corian® has no trouble meeting all these criteria and will provide a long lasting solution to even the most demanding work spaces.

Click HERE for more inspiration and to more information on the Corian® SWEET 857 and others in the kitchen range or speak to one of our team who will be happy to discuss your project.