What Karen does: Quotations/Estimator
My role is to provide quotes for inquiries that we receive. Whether it's a straight forward kitchen or something more creative I like to ensure that I give the best information/advice that I can from the onset. I had worked at Counter Production for a couple of years previously and was very happy when a position became available in August 2018 which enabled me to return to the fold.  They are a great team to work with.
Hobbies: Outside of work I enjoy reading and baking and recently I became a grand mother for the first time so seriously look forward to thoroughly spoiling my granddaughter whenever I get the chance.
Something we didn't know about Karen: I grew up in Canada so am able to make an igloo – should the need arise!
Favourite Corian Colour: My favourite Corian colour would be Sparkling White.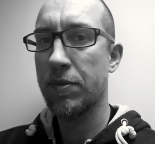 ANDY
What Andy Does: Draughtsman
I started working for Counter Production in 2001. My main duties as a draughtsman are to proline templates, create clear and accurate drawings for my colleagues and clients, and to program solid surface material in readiness for CNC operation. I am also responsible for the collation and processing of job specifications and information from various sources. The role of draughtsman requires knowledge of various software, the ability to use a Proliner (digital templating device), and good communication and organisational skills.
Hobbies: My interests outside of work include: Mountain Biking, loud/heavy music, all forms of motorsport, and real ale. I am also a passionate supporter of Manchester United FC.
Something we didn't know about Andy: Interesting fact: I have a BA (Hons) degree in Fine Art from the University of Kent. Consequently, I was given the opportunity to play a minor role in the creation of the 'Millennium Experience', at the Millennium Dome.
Favourite Corian Colour: My favourite Corian colour is Fossil.
What Howard Does: Project Production Manager.
I started working for Counter Production in 1989.
The roles I perform within the company:  When unusual projects are presented to the company it is my job to analyse what is needed, and often work out how the project will be achieved. Once this is done I have to estimate the calculate the hours and materials required to complete the job. Another key part of this will be to act as a  liaison between clients, architects designers and kitchen studios, whilst also working out how to achieve the customers expectation.
This role will also lead onto creating new technical processes for CNC and fabrication operations for everyday use or for bespoke projects. As well as good fabrication skills, I also have draughtsman skills so can fill in when needed. In addition I've also been known to template, fabricate and fit worktops if required. A bit of an all-rounder!
Hobbies: My interests outside of work include: Fishing Gardening and being the oldest Roadie  for my son who is a DJ.
Something we didn't know about Howard: When I was 14 years old I spent 2 days driving with my Father to Ghardaia in the Sahara who was working in Algeria, at the time.
Favourite Corian Colour: My favourite Corian colour is Cosmos Prima.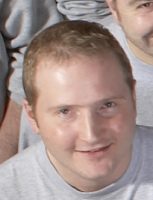 PETER
What Peter Does: Production Manager.
I joined Counter production in 1990 as a trainee fabricator/fitter. 11 years later & from a second factory, I was made head of training with a team of fabricators ready for expansion.  I now manage the production process from our factory in Watlington Oxfordshire of which I'm responsible for a team of very highly skilled & long serving fabricators, producing solid surface for kitchens & bathrooms to the highest quality, ensuring every project meets Dupont's strict standards. My other responsibilities include producing cutting sheets, ordering materials, stock control, recruitment & overlooking & working in conjunction with the drawing office & CNC.
Hobbies: My interests outside of work include long-distance off-road mountain biking & Shotokan Karate.
Something we didn't know about Peter: I once accused an innocent shopper of stealing my wallet as they brushed past me in Tesco, making a citizen's arrest & calling the police in front of a big audience, before then realising I had just put it in a different pocket. I very quickly left the store empty handed & very red faced & have never been back.
Favourite Corian Colour: So many to mention but overall, I love the way the pattern & veining flows with White Onyx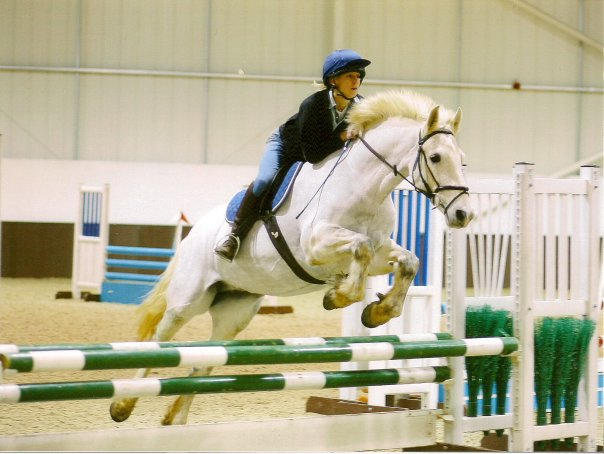 BECKY
What Becky Does: Office Manager
I started working for Counter Production in 2006 as a junior estimator.  My current role covers many areas but predominantly Order Processing and Accounts.   My days are extremely varied as my responsibilities can range from dealing with tax queries to ordering tea and coffee!
Hobbies: I have 2 pony mad daughters and we spend most of our free time caring for our ponies.  I also love to cook and try to make one new recipe a week.
Something we didn't know about Becky : I listen to music almost constantly and have a weirdly eclectic taste – currently it is "Punk does Disney!"
Favourite Corian Colour: My favourite Corian colour is Antarctica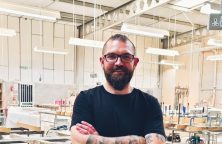 STEPHEN
What Steve Does: Installations Manager
I joined the Counter Production team in 2015, after a long career in the fuel industry, initially as the company's Business Development Manager. I spent the next 5 years liaising with our customers to offer a full service of support that included training, design and technical advice. In 2020 I moved into the role of Installations Manager working even closer with our customers to ensure all projects are templated and installed to the highest standards. I also still draw on my vast technical knowledge of the product to help customers overcome any design or site issues that may arise. As a team player from time to time you may find me quoting or sweeping the factory floor.
Hobbies: My interests vary but one thing is always constant, I enjoy making things. I am often found in the shed with my CNC and covered in dust.
Something we didn't know about Steve:
My second cousin is the actor Clive Mantle, known for his roles in Casualty (Mike Barratt) & Game Of Thrones (Greatjon Umber)
Favourite Corian Colour: My favourite Corian colour is Lava Rock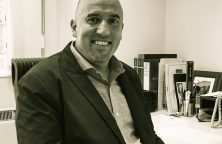 TIM
What Tim Does: Managing Director
I joined the Counter Production team , a family business, in January 2014 helping out with the installation management. Having run my own business for the previous 13 years I decided to sell this and move full time when the then MD (Patrick McGrath and my father-in-law), was looking to step back and retire. I took over the reins fully in 2018 and run the business together with Tara (my wife) who also works in the company.
Hobbies: My interests mainly centre around vintage cars and restoration. When I'm not at work, I'm often found in the garage restoring a car, or out racing/trailing one of the pre-war cars. I've been a long term member of the VSCC.
Something we didn't know about Tim:
I have an identical twin, so if you ever see me in the street and I totally ignore you, it could well be my brother David.
Favourite Corian Colour: My favourite Corian colours are Cosmos Prima and Designer White.