Corian®
Corian® DELIGHT 8430
Elegant, reliable, versatile and durable: these are the keywords universally associated with the Corian® brand and surfacing material.
For residential and commercial environments.
Available in three models: rectangular with top, oval with top, Corian® DELIGHT 8430 freestanding.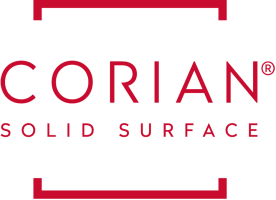 Description

Corian® DELIGHT 8430 BATH – Durable, hygienic and functional. Corian® Delight bathtubs are customisable or ready-to-use and can be the ultimate balance between outstanding technical performance and sensory and aesthetic excellence.

Combining a Corian® DELIGHT 8430 BATH with Corian® cladding, wet walls and surfaces, interior designers, industry professionals and dealers can create bathroom solutions to meet a wide variety of demands in terms of style and functionality.

Highly versatile, the three models – symmetrical semi-finished oval and rectangular models with top; and oval freestanding model – suit both residential and commercial environments.


Corian® baths are dirt and stain resistant thanks to its non-porous properties. Light scratches can be easily removed with a special Corian® cleaning solution, meaning that this mould-resistant material will continue to look like new.

DURABLE – Corian® DELIGHT 8430 BATH

keeps its good looks and survives the impact nicks and cuts that can occur with daily wear and tear.

TOUGH – Corian® cannot delaminate, the joints are inconspicuous and fluids cannot penetrate.

EASY-TO-CLEAN – Corian® has a non-porous surface that prevents dirt and stains from penetrating the material. Any marks are easily removed using household cleaners.

NONPOROUS – Corian® is nonporous and hygienic. Its smooth surface does not allow liquids to penetrate and that makes it easy to clean. Bacteria and mould have nowhere to take root.

REPAIRABLE – Corian® surfaces are renewable. Chips and scratches in Corian® DELIGHT 8430 baths

 

are usually possible to repair and although will be completely seamless can show a 'shade' difference. 

SEAMLESS – Corian® solid surface bonds with inconspicuous seams, meaning there are no crevices to trap dirt and bacteria.

For matching sinks to compliment the bath range, see HERE.