Neutral Concrete Corian Island
Corian Kitchen Island in Neutral Concrete with slab ends. Sparkling 9504 Corian sink also in Neutral Concrete. This stunning monolithic island roots itself within the rustic 'loft' style kitchen perfectly complementing the rough hewn wooden boards and stark brick walls. With all the benefits of solid surface such as seamless joins, integrated sinks and seamless drop ends.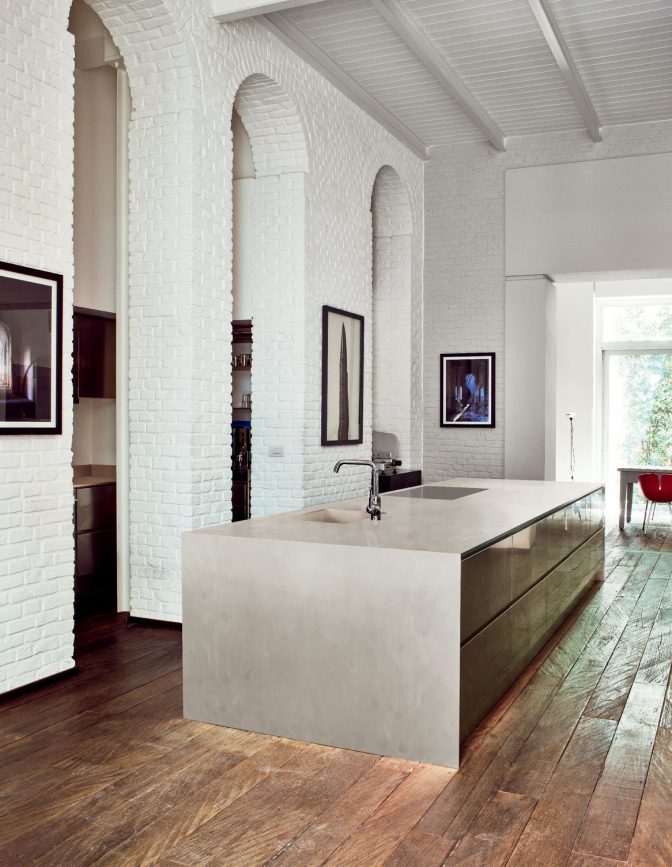 Corian Neutral Concrete is visually subtle and aesthetically strong. Inspired by an urban landscape, it embodies the appeal of modern industrial design. Four new neutral colors reveal a quieter side to balance its straightforward design style. Concrete Corian is bound to be popular with the kitchen designers as an alternative to the polished concrete look often requested.
Neutral Concrete
 : Neutral Concrete is an ideal hue to create a background of quiet strength. The soft ivory color flows within the overall aesthetic, creating an exclusive design statement.
The veining of these colours may vary in intensity and highlight joins. Very light visible marks under specific lighting conditions after intense and heavy use.
Available in 12mm sheet thickness
Please click here to see more examples of this colour on the DuPont website.
Features and Benefits :
DURABLE
 – Corian® keeps its good looks and survives the impact nicks and cuts that can occur with daily wear and tear.
TOUGH
 – Corian® cannot delaminate, the joints are inconspicuous and fluids cannot penetrate.
EASY-TO-CLEAN
 – Corian® has a non-porous surface that prevents dirt and stains from penetrating the material. Any marks can be easily removed using household cleaners.
NONPOROUS
 – Corian® is nonporous and hygienic. Its smooth surface does not allow liquids to penetrate and that makes it easy to clean. Bacteria and mould have nowhere to take root.
REPAIRABLE
 – Corian® surfaces are renewable. Chips and scratches can be repaired returning it back to 'new'.
SEAMLESS
 – Color-coordinated Joint Adhesive bonds Corian® solid surface with inconspicuous seams, meaning there are no crevices to trap dirt and bacteria.