Hidden Corian Mixa Sink With Telescopic Tap
Our client required something different on this project – a custom Corian Sink With Telescopic Tap. They wanted to make the most of the worktop surface area and keep everything as minimal as possible. To achieve this look they needed the sink area to be completely hidden when not in use.
There wasn't a box product that would do the trick so we customised a Corian Mixa 871 sink with a integrated shelf area. This in turn houses and hides a telescopic tap and waste disposal button. The sink area is finished with a custom flush fitting Corian sink cover.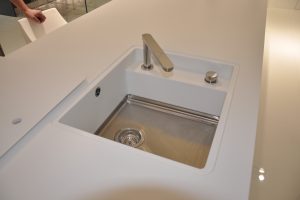 Custom Sink – Telescopic Tap