Corian Public Spaces – Corian® and solid surface in Commercial Applications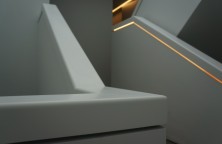 Corian Public Spaces – Counter Production have been manufacturing Corian and other solid surface for 30 years. We have made and installed hundreds of projects in the commercial arena. Corian® is hard wearing, repairable, hygienic, weather proof, workable and inspirational to design with. This makes it the perfect partner to use in commercial projects especially public spaces.
Over the years we have undertaken a number of projects where Corian® has been used for commercial applications. To include but not limited to Reception Desks & Boardroom Tables, Restaurant Bars & Tables, Outdoor Seating Areas & Pools, Restroom Vanities, Outdoor Planters, Staircases, Coffee Shop Worktops.
We also have been involved in large new build projects, for example 120 Flats where we have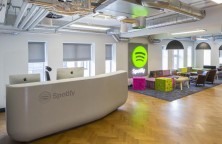 templated, fabricated and fitted Corian® kitchen worktops to tight timescales and strict guidelines. A recent commercial project involved the renovation of an ancient church space where awkward walls and steel pillars meant that Corian was the perfect material to handle all the irregularities.
It's worth noting that all our Fitters are CSCS accredited and work to exacting Health & Safety standards.
We have a dedicated team that will see any commercial project through from start to finish and will ensure timely and accurate management of any project.  Our team will work with you to value engineer any concepts you may have.
Corian public spaces